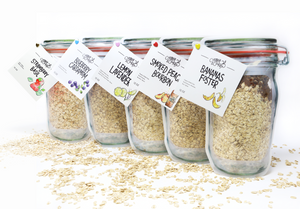 A variety pack featuring five of our delicious flavors means there's something for everybody!

Smoked Peach Bourbon - The pairing of sweet peaches, barrel aged American Bourbon and pinch of mesquite smoke coupled with a blend of highly flavorful handpicked spices to create an incredible tasting experience that is sure to please even the pickiest eater.
Lemon Lavender - Lemon, local Texas honey & Lavender are a perfect match in this light but flavorful combination. The Honey and lavender along with a pinch of vanilla round out the tartness of the lemon in the most amazing way.
Blueberry Cardamom - Blueberries and cardamom harmonize well together to offer a great flavor profile that is rounded out with middle notes of Madagascar vanilla. The fragrantly flavorful cardamom is surely the star of this delicious blend.
Bananas Foster - Bananas and dark rum are BFF's for breakfast in a combination that is sure to delight almost anyone! Paired together with Madagascar Vanilla this flavorful trio brings breakfast to life in the most delightful way. 
Strawberry Basil – The flavor of strawberry is fruity, sweet, and mildly acidic. However, Basil and it's strong, pungently sweet smell and peppery taste lend traditional strawberry a more adventurous flavor as well as a vibrant hue that really perks up any bowl.